Social Networks are Here to Stay
Facebook, Twitter, Foursquare, Pinterest, Google Plus, LinkedIn and dozens of other websites are changing the way consumers make purchasing decisions. When it comes choosing local Savannah stores, restaurants, brands, doctors, electricians, churches, charities - the list goes on - consumers are plugged into social networks and getting recommendations from friends.
Social media is the new word of mouth. Is your organization part of that conversation? If you're not visible and active on these services, you run the risk of losing business. We live in Savannah. We know Savannah. We can help.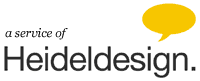 We've been actively developing websites and blogs for fourteen years. In addition to web presences, we also build mobile sites and apps. Now, we're helping clients make best use of social media by writing and sharing compelling content that turns fans and friends into customers and clients.
Meet Ginger

Ginger is your personal social networking concierge. She understands how to craft a message and spread it virally using the power of personal connections threaded through the internet. A UGA grad, former television news journalist and public relations director in the healthcare industry, Ginger writes effective copy and matches it with visuals that get you noticed.
Case Studies
Heideldesign (that's us!)
Heideldesign uses Facebook, Twitter and LinkedIn to keep existing clients and potential clients in the loop on the latest advances in website and mobile design. We also feature projects from our portfolio and regularly promote our fresh blog content by seeding images on Flickr and aggregating through Google Plus and LinkedIn.
Savannah Plastic Surgery
In the highly competitive field of cosmetic surgery, we've worked with this local practice to increase their fan count and market seminars and special events. Facebook and more recently Twitter are their key networks.